Discover Your Facilitation Strengths & Style
The Jester, The Drill Sergeant, The Sensei, The Superhero, The Confidant – years of research and experience have taught us that the Five PersonasTM are employed by the world's most masterful facilitators and trainers. What makes these facilitators so exceptional is that they aren't just one of these personas; rather, they leverage the strengths of all five.
Are you and your team ready to explore where your strengths lie and where you can focus to improve your work as facilitators?
Find Out How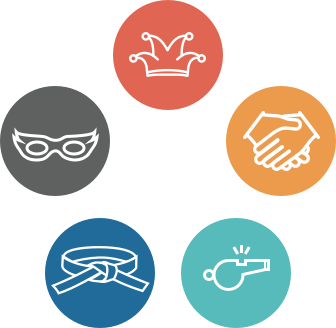 Discover Your Strengths. Identify Your Hazards. Improve Your Performance.
Every Five PersonasTM learning journey begins with completing our online
assessment. From there we can tailor a solution that best suits your needs.

Five Personas BenchmarkTM Assessment
The Five Personas BenchmarkTM is an in-depth self-assessment tool accessed through our online portal. AVer completing your profile and responding to the assessment, the system generates a personalized report. The report includes valuable insights on your results as well as your detailed Persona scores.

Five PersonasTM Team Workshops
For your team, you can bundle the self-assessments with our workshop program and work through the process as a group. Together, your team learns about each other's strengths, and every program is tailored to focus on the key development priorities that will maximize the overall benefit for your facilitators.

Five PersonasTM Coaching
As an individual, you can combine the self-assessment with 1:1 coaching to review your scores, uncover your strengths, and prioritize a development action plan.

Five PersonasTM Performance Consulting
From a strategic perspective, ask us about how you can apply the Five PersonasTM competency framework to establish clear performance standards for your trainers. As partners, we work with you to implement an internal development system (ex. observation, feedback, and coaching tools) for facilitation skills.
A Bit About Shift Facilitation...
Shift Facilitation is a global leader in facilitation skills training. Our team has over 100+ years of combined experience in virtual and traditional facilitation. We support clients and teams who strive to level up their facilitation capabilities.
Meet Shift
Clients Powered by Five PersonasTM
Wholesale Upgrade for Retail Trainers
A big-box national retailer we work with has a super-mature internal training team. They deliver innovative, sophisticated learning solutions for their retail and corporate staff. The delivery team is a group of 25+ passionate trainers. All of them are exceptionally talented subject matter experts who have grown up in the business…
Read More

Get In Touch!
Let's discuss how we can work to serve you best.